I'll admit, I've been a little MIA! I blame it on pretty weather and a busy summer. I'm back though with only 20 days left before B2S for me. My classroom theme this year is Polka-dots and Chevron. Here are some freebies for you to grab!
Clock Minute Intervals
Happy Birthday Cards
Welcome Pennant Banner ( I wish I had a finished one to show! I need a laminator...)
Grab them at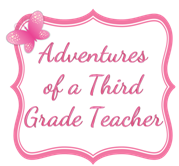 I'll be back with some more Freebies soon!